Come home to a space that's unique and truly your own – so go ahead and define your own style!
Our clients didn't want to have to choose between the one-of-a-kind, ethnic pieces that called to them and the stream-lined functional style they needed. So, they decided to trust their creative instincts and use the pieces they loved for inspiration to make it all work. The Hand Carved Tribal Free Form Table, Carved Tribal Bench and Teak Slat Side Bookcase from Gado Gado mixed perfectly with their existing favorites. With the gorgeous pop of pumpkin shaded paint, they beautifully blended a variety of different elements to create one fabulous space!
Stop in at Gado Gado and see what inspires you …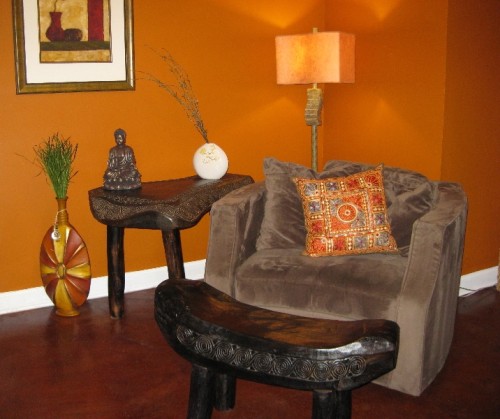 Hand Carved Tribal Bench &  Hand Carved Free Form Side Table from Gado Gado.
One of our long time clients is in the process of renovating a home and she's detailing the process on her blog:  http://detailssquared.blogspot.com/.
Her and her husband have finished the living room and their pieces from Gado Gado look fabulous in their Mid- Century Modern Style space. The Carved Reclining Buddha, the Hand Chairs and the Curved Teak Bench, are a perfect balance to the glass and chrome shelves and coffee table (and that Mulberry colored sofa rocks!). Hand crafted Indonesian furniture, Art and Home Accents complement so many different design styles, so visit us at Gado Gado and have some fun and mix it up!
Our client's home is a serenely, beautiful space which showcases her love of South East Asia. She has effortlessly blended her Indonesian furniture pieces from Gado Gado with her other Asian treasures against a modern backdrop, to allow each and every piece to stand alone in it's beauty. We're thrilled she's shared these photos with us!
We're getting settled in our new location on Chattahoochee Avenue and our Showroom is open.         All of our hand crafted, solid wood Indonesian furniture and art look right at home in our new space. Gado Gado is easy to find –  right at the corner of Chattahoochee Avenue and Collier Road. Lots of friendly faces have already stopped by to check out our new digs and we're enjoying meeting all the fresh faces finding us here. Gado Gado is in the building  next to Nuevo Laredo Cantina and down the street on Collier road from Hankook Taqueria. Great shopping and great eats – can't beat that!
Moving Gado Gado to it's new location has been an overwhelming task to say the least! You never know how much stuff you really have until it's time to move it!  It was 10 solid days of hauling … with no break for Thanksgiving, but Setiawan, aka "Moving Master", was a man on a mission. Thanks to him we made it!  The crew from Bobadilla's Signature Moving company was also a fabulous, hardworking team that worked tirelessly on the rainy, very cold days we had their help. No break for the weary though, as Setiawan is orchestrating the set up for the new showroom. It will be a work in progress for the next few weeks, so for those of you who stop in early on, we hope you'll understand we're still getting settled in our new home at 1483-C Chattahoochee Avenue. PS all of our handcrafted Indonesian Furniture is looking mighty fine in the new space!
WaterMoon Refuge …
A haven in the city.
A rest from all striving.
A place to be still.
It was a great privilege and a delightful pleasure working with Swami Lotus at WaterMoon Refuge.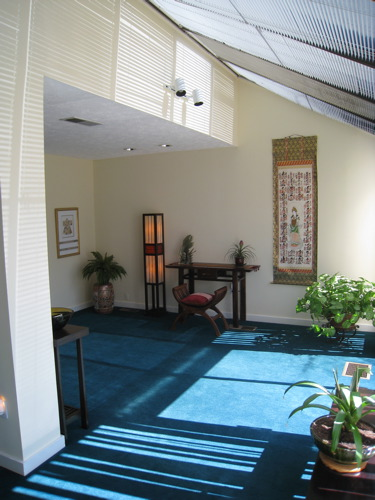 If you are looking for a place to pause, to be still,  please visit http://www.watermoonrefuge.org/ for more information. A true haven in Atlanta, Georgia.
Master bedroom project on the calender? How about using an Indonesian architectural panel for a one-of-a-kind headboard? These hand carved teak panels, whether reproductions or antiques, salvaged from old beds and doors make beautiful headboards.  Design a master bedroom that is a personal, exotic retreat and a relaxing holiday may only be a few steps away!
Indonesian consoles and cabinets are beautiful alternatives to a traditional vanity that are sure to enhance your bath renovation.  As I mentioned in a previous post, incorporating a hand crafted piece of furniture as a vanity is a great way to add some personality and unique style to your bath redo.
Many thanks to our client for providing the before and after photos. Both Indonesian console cabinets were purchased from Gado Gado.  Many of our pieces are one-of-a-kinds and our inventory is always changing, so please visit the Consoles :l: Buffets Gallery to view our current stock.