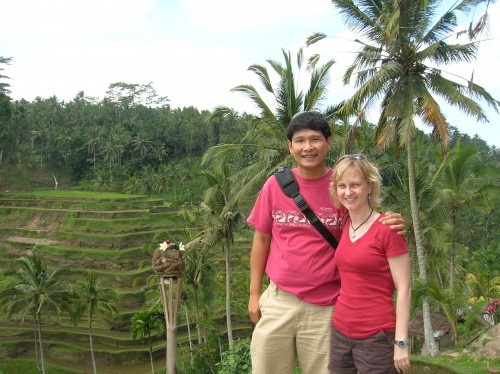 Greetings! We're Setiawan and Jill Onggo, and thanks for visiting Gado Gado!
Gado Gado is our retail store located in the heart of Midtown Atlanta. Open since December 1997, Gado Gado was founded to provide an assortment of unique, hand crafted, intriguing items directly imported from Indonesia.
Gado Gado, which is most commonly known as a popular vegetarian dish, is loosely used in everyday Indonesian to connote a mixture of things. From our mixture of items from all over Indonesia, our blend of personal and professional, to our mixed backgrounds (Indonesian and American) – Gado Gado was the perfect name for us and our business! Everything about us is Gado Gado!
Our gallery has a unique collection of wonderful pieces from the island archipelago, many of them one-of-a-kind. We specialize in hand crafted Indonesian furniture, home accessories, textiles and art from Java, Bali and beyond. All of our pieces are carefully chosen through our personal travels and wonderful adventures. For over 14 years we've had the pleasure of meeting talented artists and craftspeople and found much delight in discovering, handmade items showcasing the talent and skill of these Indonesian artisans.
We hope that you enjoy our collection of Indonesian furniture as much as we enjoy our treasure hunts! Thank you for visiting our site and we hope you can experience the beauty of Indonesia's rich and diverse culture through its art, artifacts, and furniture.
Setiawan & Jill