Come home to a space that's unique and truly your own – so go ahead and define your own style!
Our clients didn't want to have to choose between the one-of-a-kind, ethnic pieces that called to them and the stream-lined functional style they needed. So, they decided to trust their creative instincts and use the pieces they loved for inspiration to make it all work. The Hand Carved Tribal Free Form Table, Carved Tribal Bench and Teak Slat Side Bookcase from Gado Gado mixed perfectly with their existing favorites. With the gorgeous pop of pumpkin shaded paint, they beautifully blended a variety of different elements to create one fabulous space!
Stop in at Gado Gado and see what inspires you …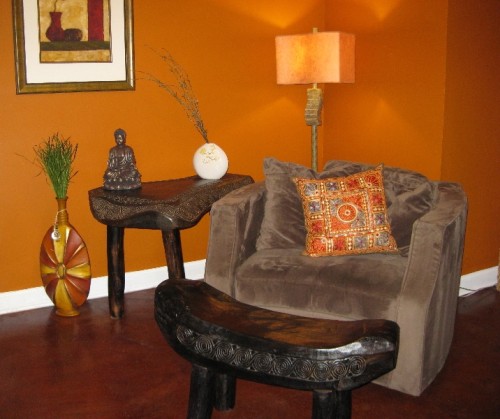 Hand Carved Tribal Bench & Hand Carved Free Form Side Table from Gado Gado.